MONUMENTAL CONSTRUCTIONS
The Participative Monumental Construction made from Cardboard is an invitation to the population to build together. An unusual building, a kid's dream, a collective performance. The public is asked to assemble empty cardboard boxes to build a monument with neither a crane nor a machine, only with human energy and muscle power.
Image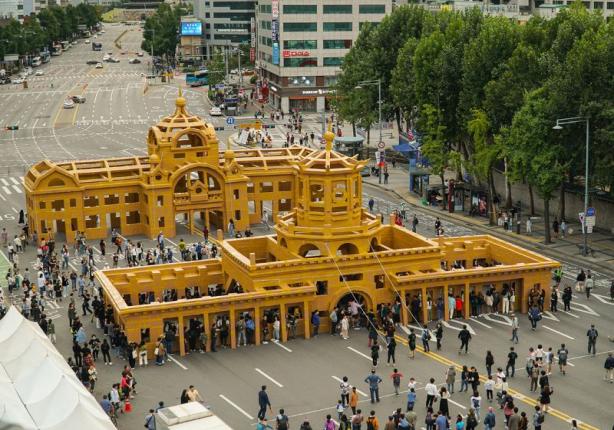 Each building project lasts several days which are divided into 3 key moments:
PRE-CONSTRUCTION TIME IN WORKSHOPS
Over several days preceding the construction day, adults, children, seniors, of all ages and horizons are welcomed to the workshops to prepare specific elements of the construction;   The artistic approach is shared and the techniques used to build put into practice. We build the specific parts and pre-assemble the unusual elements: roofs, arches, corniches, balconies, etc… These moments are a time to share and exchange.
CONSTRUCTION TIME
In a public place, the town's inhabitants are welcome all day to construct the building. They assemble the elements prepared in the workshops, make up new boxes to complete the building, and regularly lift the structure to add a new level, then consolidate it with adhesive tape. As we progress, the structure is heavier and needs more people to lift it. It's a time to meet, a time when everyone finds his/her place and the key moment of the project when we feel the strength of collective energy.
DE-CONSTRUCTION TIME
The population is invited to assist the demolition of the building. After it has been pulled down, the public is asked to trample and jump all over the boxes. This is an integral part of the project. This symbolic moment is fun.
The aim of the project is as much about sharing the experience of a collective construction as the final work of art. This is a federating project which touches both young and old and enables people to meet and build joyfully together.
It enables us to recreate links with one another,
when sharing we progress further.
We can lift mountains… or at least a monumental construction
measuring almost 20 metres high and weighing more than 1 ton.